Youzhnaja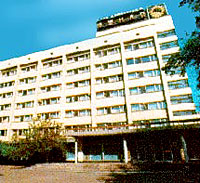 from $15 + VAT

Hotel of economy class. It is located in prestigious area of city in a non-polluting green zone.
In hotel of 200 numbers. All numbers single and double.
In each number the TV, a refrigerator, the phone, a full bathroom.
To services of visitors: restaurant, bars, a hairdressing saloon, shops, motor transport, a fax, a laundry, tailor's, a left-luggage office.
Address:
Raboche-krestjanskaja, st 18.
100 Top Ukraine Women Sites


Contact Us



THIS PROGRAM IS THE SOLE PROPERTY OF 100 TOP UKRAINE WOMEN SITES AND MAY NOT BE COPIED IN ANY WAY OR FORM WITHOUT EXPRESS PERMISSION FROM 100 TOP UKRAINE WOMEN SITES.

© COPYRIGHT 1996-2023 - ALL RIGHTS RESERVED.