Kaskad ***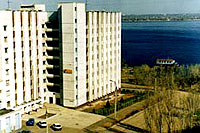 from $15 + VAT

The Kaskad Hotel is conveniently located on the Volga river waterfront.
Commissioned in 1991, the hotel offers the guests of Volgograd 54 one-room and two-room apartments with all modern amenities.
Each apartment boasts a colour TV, a refrigerator and, of course, a breathtaking view of the Volga. Some of the apartments are also equipped with telephones. In addition, the hotel features long-distance phones in the lobby, a dining room, a cafeteria, a massage parlour, a storage room, and a hairdresser's shop.
Water, sun, cozy apartments and affordable prices at the cafeteria all come together at our hotel to provide you with a unique opportunity to relax and have a good rest, to get a great suntan and, if necessary, to combine pleasure with business.
Address:
Gramshi st. 55
100 Top Ukraine Women Sites


Contact Us



THIS PROGRAM IS THE SOLE PROPERTY OF 100 TOP UKRAINE WOMEN SITES AND MAY NOT BE COPIED IN ANY WAY OR FORM WITHOUT EXPRESS PERMISSION FROM 100 TOP UKRAINE WOMEN SITES.

© COPYRIGHT 1996-2023 - ALL RIGHTS RESERVED.