Ural ****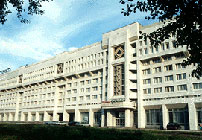 The "Ural" hotel is situated in the center of Perm, at the cross of two mail streets of the city - Komsomolsky prospect and Lenin street.
Near by there are the Regional Administration, Business&Cultural Center, Central Department Store.
Also close to the down town you may find Exhibition Hall, Perm State Art Gallery, Perm Academic Opera and Ballet Theater, the Zoo, Central Post Office, Perm Regional Museum, the cinemas "Triumph" and "Crystal".

The Hotel is situated in 18 km away from "Bolshoye Savino" airport, in 3 km away from the train station. The transfer is provided.
Rooms
There are 359 rooms ( per 460 persons) at the "Ural"*** hotel. It is standard single and double rooms and De Lux rooms - totally 17 types. There are bathroom, color TV set, refrigerator, telephone, dishes set at every room (depending on a type of the room). In De Lux rooms you can get (additionally) - dish's sets, covers for 6 persons, fruit and flower vases, kettle, tea set, soft drinks. Cloak room, reception safe.
Service Center
The "Ural"'s service center ofers you:
Internet access;
e-mail service;
scanning and colourful printing;
xerox service;
fax connection;
cloak room and safe.
In the hotel's hall there are:
lobby-bar;
currency exchange office and box-office of the "Slavyansky" Bank;
cash machines accepting VISA and Sbercarta cards;
airline ticket office;
pharmacy;
souvenirs shop;
newspaper shop.
At your service:
exhibition and trade center;
car park;
billiard room;
health center;
barber shop;
beauty saloon;
doctor office.
The local business center with the negotiation room, bar and rest room are at your service as well. There are telephone and fax connection, video system equipment and overhead.
The concert hall of the "Ural" hotel for 207 persons offers you shows, and can assist to organize the conferences, presentations. There is an Art-cafe at the hotel where you can be served with drinks and snacks.
100 Top Ukraine Women Sites


Contact Us



THIS PROGRAM IS THE SOLE PROPERTY OF 100 TOP UKRAINE WOMEN SITES AND MAY NOT BE COPIED IN ANY WAY OR FORM WITHOUT EXPRESS PERMISSION FROM 100 TOP UKRAINE WOMEN SITES.

© COPYRIGHT 1996-2023 - ALL RIGHTS RESERVED.