Stroganov Church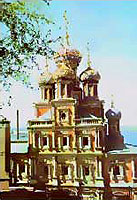 The Stroganov Church
Construction of the Nativity (Stroganovskaya) Church, a fine sample of Russian baroque, was funded by the Stroganovs, a prominent Russian merchant family. It is one of the most beautiful religious buildings of the 18th century, particularly notable for the splendor of its white intaglio. The interior of the church is in a very good condition, so if you are interested in visiting an Orthodox church, this one is an excellent choice. The singing of the Stroganov Church choir is also very beautiful.
100 Top Ukraine Women Sites


Contact Us



THIS PROGRAM IS THE SOLE PROPERTY OF 100 TOP UKRAINE WOMEN SITES AND MAY NOT BE COPIED IN ANY WAY OR FORM WITHOUT EXPRESS PERMISSION FROM 100 TOP UKRAINE WOMEN SITES.

© COPYRIGHT 1996-2023 - ALL RIGHTS RESERVED.